Simone Menezes is a Brazilian conductor widely recognized for her artistic leadership, creativity and innovation.
Simone began her conducting career in Brazil before moving to France to study at the École Normale de Musique de Paris where she received the Diplôme Superieur de Direction d'Orchestre. She also studied with Colin Metters in London and specialized in contemporary music as a resident with Remix Ensemble (Portugal) and Ensemble Multilaterale (Paris).
Back in Brazil, Simone became the Principal Conductor of the Unicamp Symphony Orchestra from 2008 to 2012. During this time, she released two albums of Brazilian Contemporary Music, one of which was nominated by the Music Critics Association of São Paulo for "Best Brazilian Musical Project" in 2011. In 2012, Marin Alsop invited her to the Campos do Jordão Music Festival. Simone founded the Camerata Latino Americana, a chamber orchestra which has attracted the attention of the International Society for the Performing Arts in New York and the Association of British Orchestras in London, due to the dynamic and creative quality of its output. Simone also created and conducts the "Villa-Lobos Project", an international project dedicated to performances of Villa Lobos across the world, a project supported by Brazilian arts foundation, Funarte.
In 2013 and 2014 she joined the Parnu Music Festival and Järvi Academy as student of Paavo Järvi, Neeme Järvi, Leonid Grin and Gennady Rozhdestvensky. It was during this time that she was invited by the Orchestre de Paris to participate in the Assistant Conductor Competition 2014 at Salle Pleyel. Simone recorded her 2015 disc Suite Brasileira Contemporanea with Camerata Latino Americana and previously recorded Novos Universos Sonoros with Canto Diviso in 2009. 
In the 2018/19 Simone will join Orchestre de Chambre de Lausanne, Osaka Symphony Orchestra, Orchestre du Pays de la Loire and Opéra National de Lorraine. She is currently working on a project, Demos, created by the Philharmonie de Paris and Orchestre d'Auvergne which is an initiative aiming to give access to musical and orchestral education for children from less fortunate communities.  As well as educational projects, Simone continues her dedication to contemporary music, having premiered over twenty works.

Other recent engagements include performances with the Rotterdam Philharmonic Orchestra, Orchestre National de Lille, Orquesta Sinfônica Nacional in Rio de Janeiro, Orchestre d'Auvergne, Orchestre Pasdeloup, and Orchestre national d'Île-de-France, amongst others. Simone also conducts regularly at the Sala São Paulo and continues to assist Paavo Järvi alongside orchestras including the Frankfurt Orchestra and Staatskapelle Berlin. She has collaborated with other conductors such as Thomas Adés, Ole Edward Antonsen, Antonio Meneses, and Sonia Rubinsky.
Portrait of Simone Menezes from JBlanch Productions on Vimeo.
Instrument
Conductor
Official Website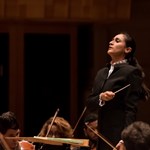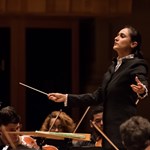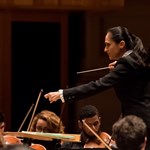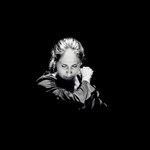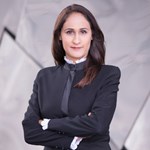 Contact us about SIMONE MENEZES
Thank you for contacting us, we will get back to you shortly