Currently a member of the Opernstudio in Zürich, lyric coloratura soprano Alina Adamski completed her MA studies in voice at the Academy of Music in Lodz and also studied at the Conservatorio di Musica F. Venezze i Rovigo, Italy.
In the 2018/19 season, Alina performs in Le Grand Macabre, Häuptling Abendwind and Last Call. In November 2017 she took part in the 'Leading opera voices of the world' concert at the Bolshoi Theatre, in Moscow and in the 2017/18 season she performed Sandrina in La finta giardiniera, Atala in Offenbach's Häuptling Abendwind, Rumpelwicht in Arnecke's Ronja Räubertochter and Maria Bellacanta in Hexe Hillary geht in die Oper. She has performed the role of Queen of the Night at the Grand Theatre, Poznan and at the National Opera Theatre, Warsaw and participated in the Young Singers Project at the Salzburger Festspiele in 2017, where she performed in Der Schauspieldirektor.
Born to a Polish German family in Lesnica, she is a PhD student at the Academy of Music in Lodz, and studying with Eytan Pessen at the Opera Academy of the National Opera Theatre, Warsaw.
Instrument
Vocal
Official Website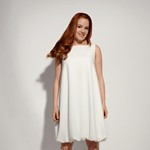 Contact us about ALINA ADAMSKI
Thank you for contacting us, we will get back to you shortly